Looking back over the last year...
Below photos of some of the New Dawn dogs who have found happiness
These dogs and others like them are the reason I founded New Dawn.
Click on photo to enlarge.
ODIN
I would like to thank New dawn for taking him and his siblings on for re-homing, he is amazing and has settled so well into our family. We adopted him last Wednesday and he is so intelligent and hilarious he has just really completed the family. Throughout the adoption process, I was kept up to date with his progress with photos and messages. Everyone I have had contact with has been great and clearly had his best interests at the heart of everything. An interesting thing about his short life so far he has been in 3 countries as he traveled to Scotland with us on Sunday for a family celebration and behaved impeccably he traveled brilliantly there and back. Hope this information helps you update his story having been brought over from Ireland with his siblings.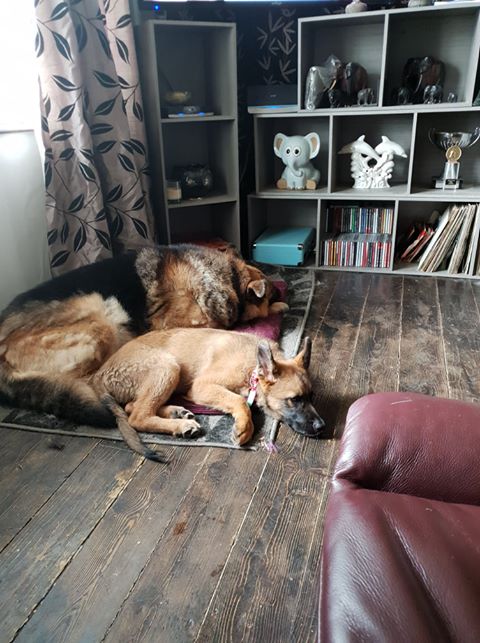 Odin update
I have been posting Odin's progress as you all know, but I am sure the foster family we picked him up from will agree he was quite timid and was unsure of strangers. 4 weeks later he has met numerous people, befriended an entire special needs/ disabled football club, attended a FE college and been adopted as the college dog, learned how to behave correctly around horses, is a superstar at puppy class and today attended the Southport flower show dealing with crowds, excessive noise and numerous distracting smells through which he found the rest of the family when asked and had to cope with every 20 yards or so being fussed and talked about, all of which he did brilliantly and the overwhelming comments where about how laid back and friendly he was. I could not be more proud of him and I made sure people understood his backstory and how important it was that people do not take on dogs if they do not understand the breed. It was really humbling when a lady in a wheelchair needed to pass through a small gap and I asked Odin to wait which he did and she asked if she could fuss him, he was super with her then as she asked me about him he just lay down next to her wheelchair and waited patiently. She said with his temperament and obvious intelligence he would make an amazing assistance dog. Made me think that maybe this breed could be trained for that and make others rethink how they see the breed, it would be a different way of using their intelligence and trainability in the future. Would love to know what you think about that idea.
STANLEY
I have wanted a dog for years specifically a GSD, I had worked in boarding kennels, rescue, grooming and dogs have always been my first love. We had been looking for a dog and came across Stanley who is a GSD XMalinois. He was one of the Greek puppies, his name was Arbie then, he was abandoned with his 2 litter sisters on 18th December 2017 at just 4 weeks old. We found him on the website I phoned straight away the lady from New Dawn thought we were suited very well. Then came the problem we had our hearts set on him but didn't agreed donation fee available. My partner Ian knew a dog was my only real dream in life, so he sold his beloved record collection!! The next day we went to meet and greet with our 2 children. We all fell in love instantly and bought him home. He settled very quickly and we haven't looked back, all our lives have improved he is a dog in a million. He follows me everywhere and is happiest when he has all the family with him. On his second day with us, I let him off his lead and he was brilliant. Our house backs on to acres of fields, woodland and a river where he gets walked we do roughly 5-6 miles every day. Stanley dog adores other dogs and has lots of friends. He is a real character and from the research, I have done he is 100% typical of this cross which I have learnt is a Shepinois. He is a real happy go lucky dog and so gentle I haven't seen him so much as curl his lip or growl at anything other than when he goes into guard mode. He makes us laugh every day, he thieves things constantly!! is terrified of the big ginger cat Mr Woo who he just wants to be friends with as he does with our new kitten Tinkerbelle and I think they will be great mates in the end. He's now 9 months and naturally has his naughty moments like when he decides he doesn't want to go on his lead at the end of a walk but we're getting there. He's also wary of some people and if we see a man without a dog he will not let them near me, he does like to protect his mum!! I have found New Dawn to fantastic and cannot praise them enough especially Julie Nevitt you really do get support when you need it. I have found out that even though I worked with dogs for years and consider myself very knowledgeable but I've discovered that having my own dog is a very different thing and he is teaching me as much as I am him, we still have a way to go with the training but together we will get there. Stanley is very intelligent but has the attention of a gnat!! I've got to say I have always been very much for purebred dogs but would choose this cross every time now, you really get the best of both worlds. Since having Stanley I have learnt loads about the Malinois they are an incredible breed, but I personally would not have one as I know I couldn't give it what it needs and deserves, that need to work is just too strong for me to handle and I hope that breeders stop selling them as pets. Even with Stanley, he is very high energy and soon lets you know when he's bored or wants to go out. He knows the signs when we're going for a walk and tries to help me get dressed, all my trousers now have holes where he tugs at them while I'm getting dressed, he brings my shoes and steals my knickers, he's really nosy and stands on the edge of the bed to lean out the window, I'm sure he thinks he's helping!! it doesn't matter what you're doing he likes to help from putting the shopping away and hanging washing out to holding the wood in his mouth while Ian is trying to saw the other end, and stealing tools that he's using. I could go on forever about his mannerisms I intend on doing agility with him, he runs like a greyhound and jumps like a stag. So all in all he is a dream come true, we all adore him and am pretty sure he adores us. I wouldn't change him for the world and am thinking of getting him a friend when he's a bit older and trained. It would definitely be another one like him although I think there is only one Stanley Dog. Thank you, New Dawn, for making us so very happy, he is the love of my life.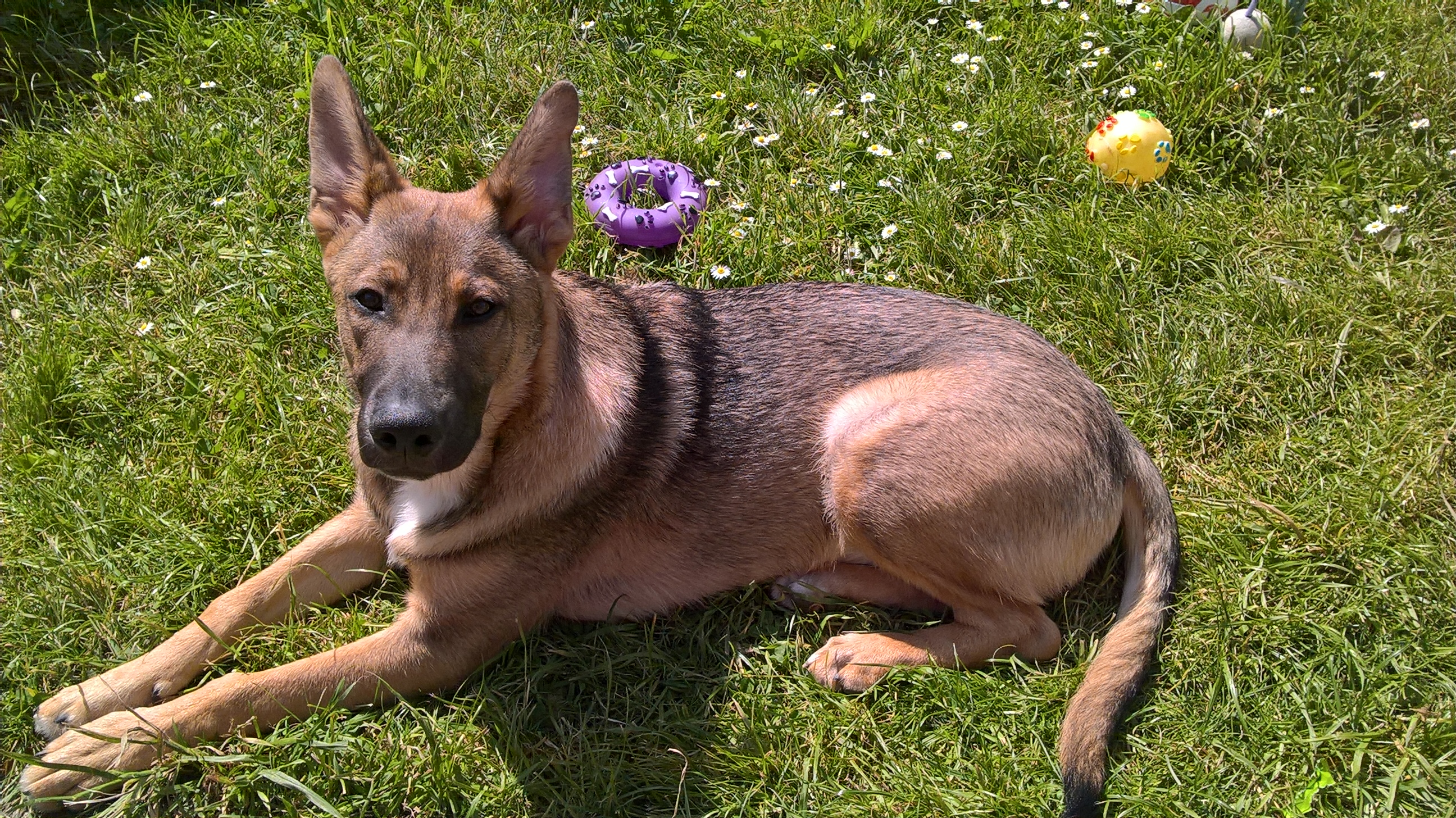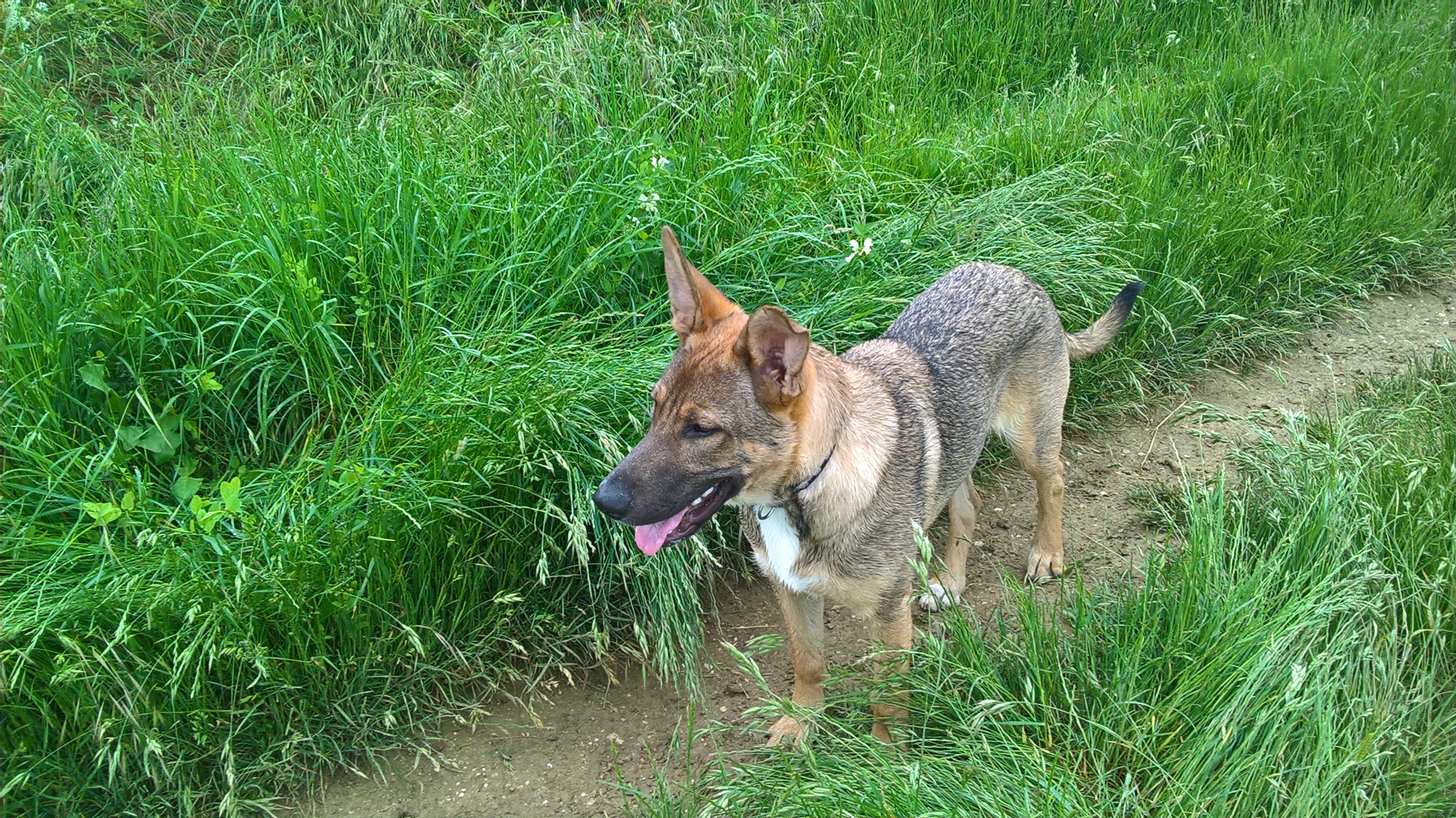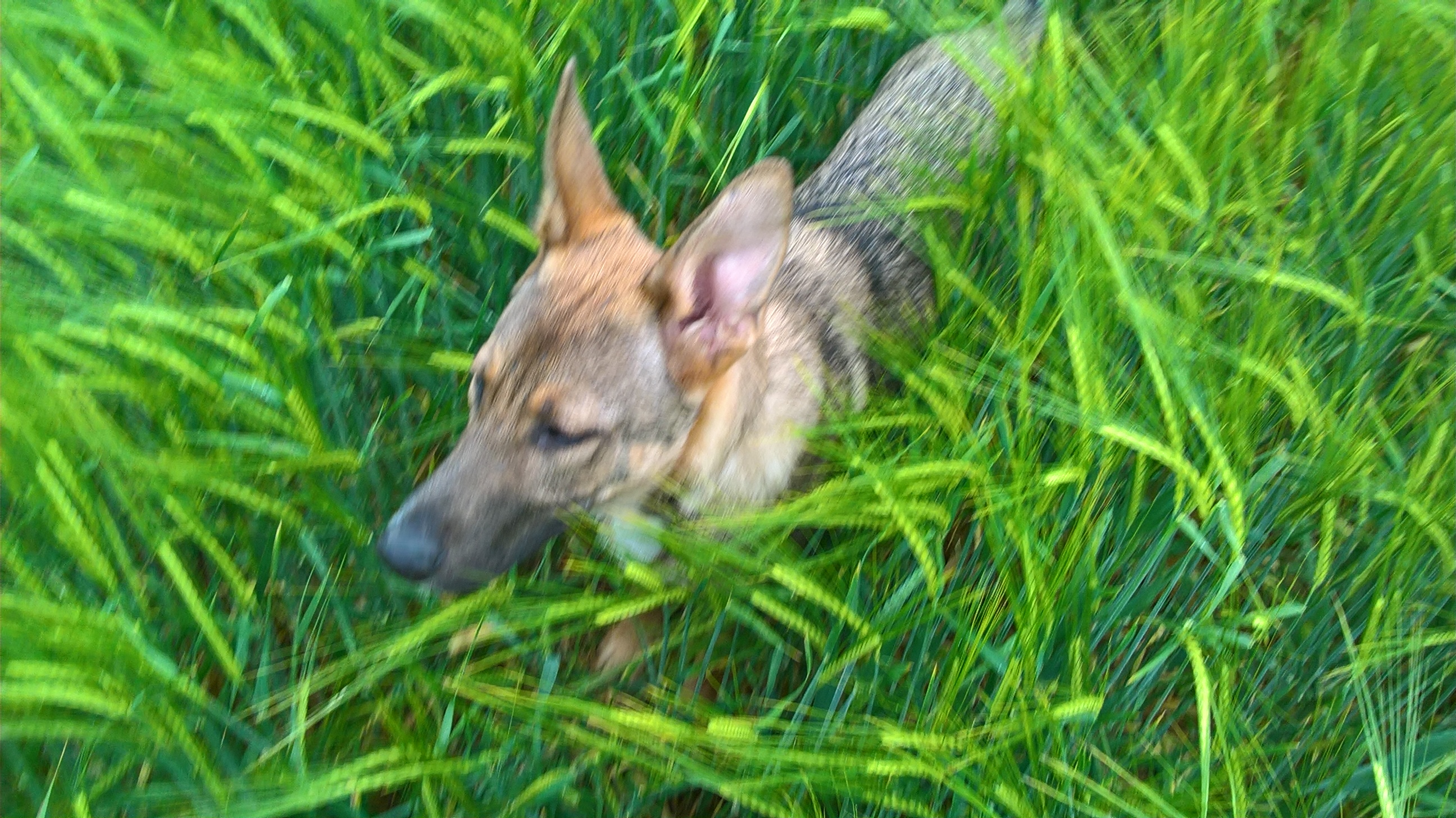 LIBBIE
Hello, all at New Dawn please see attached photos of Libbie who I re-homed from you in July this year.  She has completed our little family and spends her days helping me with the horses and playing with her brothers.
Cathy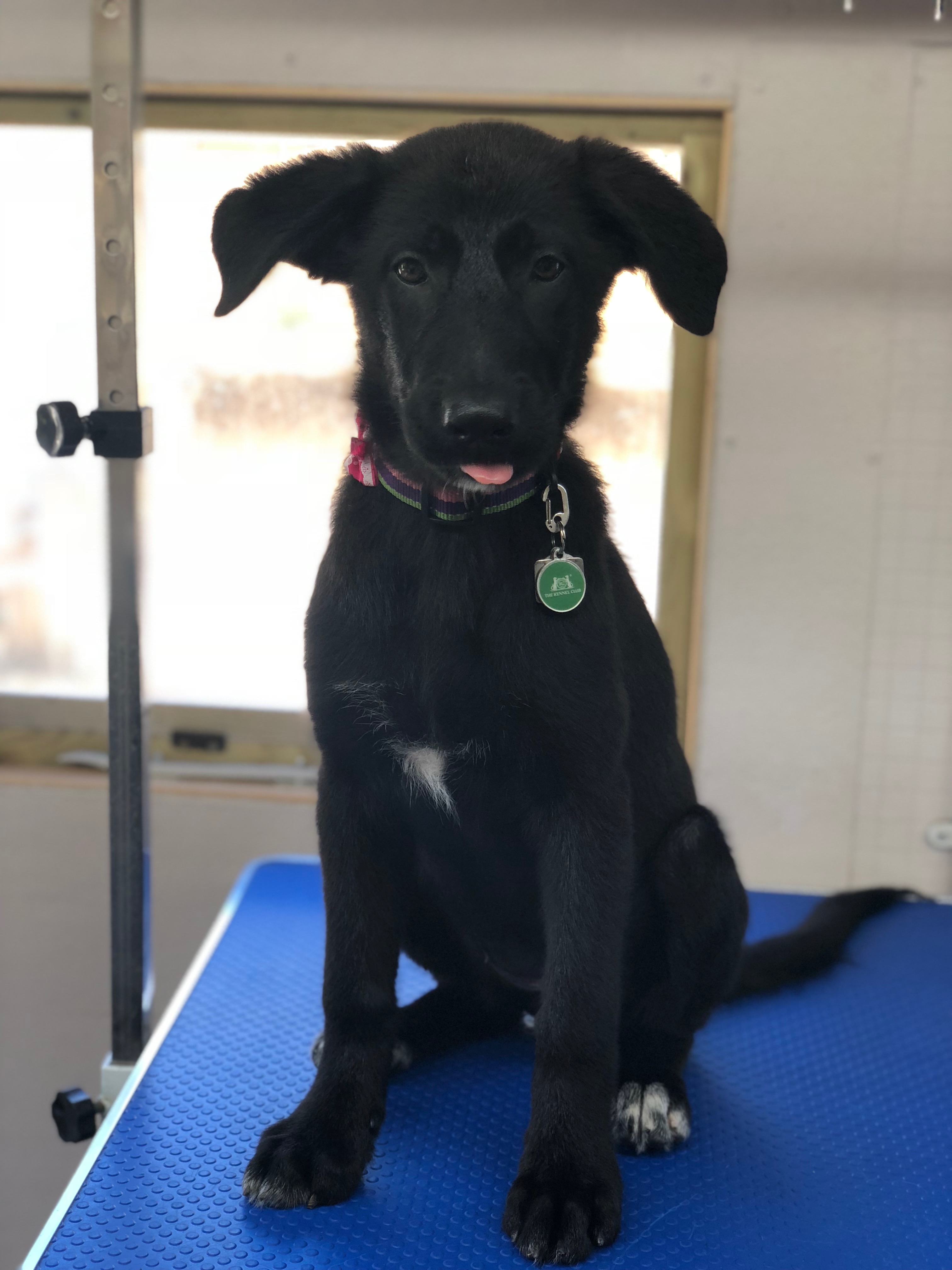 KIRA
After having lost our German Shepherd and Husky X GSD last year, we began our research of the Malinois breed, and by the time we saw Kira on the New Dawn facebook page we had done a fair bit of research into the breed and knew we needed to find out more about her.  Obviously New Dawn wanted to find out about us and what we could offer Kira so after lots of communications with Julie a homecheck was arranged.  We then waited to hear that the homecheck was successful and we were invited to meet Kira.  Needless to say we brought her home the same day.  She was very quiet and unsure at first but with gentle handling she soon became confident and happy. It did not take long at all to fall in love with her.
Rescue update. Kira has been with us for 6 months now. She is happy, healthy, cute, funny and very clever. She is doing agility and obedience training and is doing pretty well. She loves her walks by the river, going for walks in the woods and going down the park, she also loves a cuddles ! Thank you New Dawn x