For Adoption or Foster
Our Dogs Looking For a Forever Home
ACE.
Ace approx 7-month-old Mali male.
RAYNE.
Rayne is a  2-year-old Dutch Herder bitch
This dog is so very lovely extremely affectionate towards her handler, but she's not an easy dog (I can't trust her with my horses. We are working on that ). She's a bit of a hard bitch, VERY alert and sharp with HUGE prey drive.
Rayne is looking for an experienced working home only ( GP dog)
Not suitable for a novice handler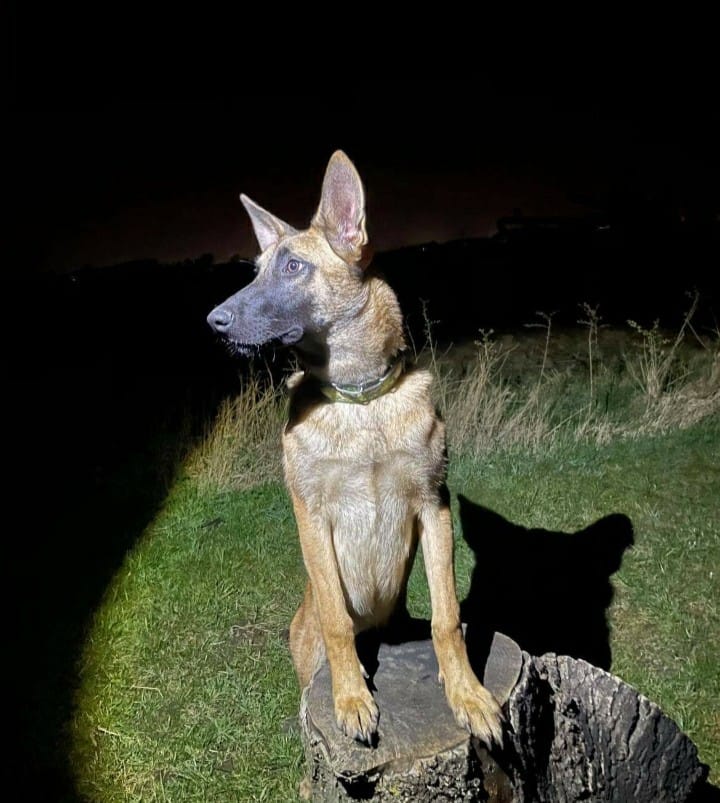 MACE
Mace mali bitch approx 6 months old.
We are looking for a working home for Mace.
We may consider an active home with previous malinois experience.
THOR.
Remember Thor who was adopted by his fosterer in the hope that he'd make a security dog, well unfortunately Thor just hasn't got it in him to do so according to his handler and I tend to agree.
Unfortunately, due to a new job possibility, his handler is unable to keep him as Thor won't be allowed on-site and it wouldn't be fair for Thor to be kennelled at home for approximately 14 hours a day.
Understandably his handler is both saddened and upset by this. I have met Thor personally on a number of occasions and he is a lovely dog once he gets to know you and gain your trust.
He seems to respond better to women however Thor is a beast of a dog ( his handler is 6'3" ) so you would need to be able to control a big dog.
Thor needs an active home with the time to put into training him further, he is stubborn at times and suffers from selective hearing.
No cats, no children and probably no other dogs unless you have the ability to keep them separate. We believe Thor is around 2.5 – 3 years old.
I would have snapped him up myself ( that's how much I like him ) if I didn't have 2 dogs and 2 cats myself and a grandchild.
If you're interested in Thor please fill in one of our adoption application forms available on the FaceBook page or the above link in the header.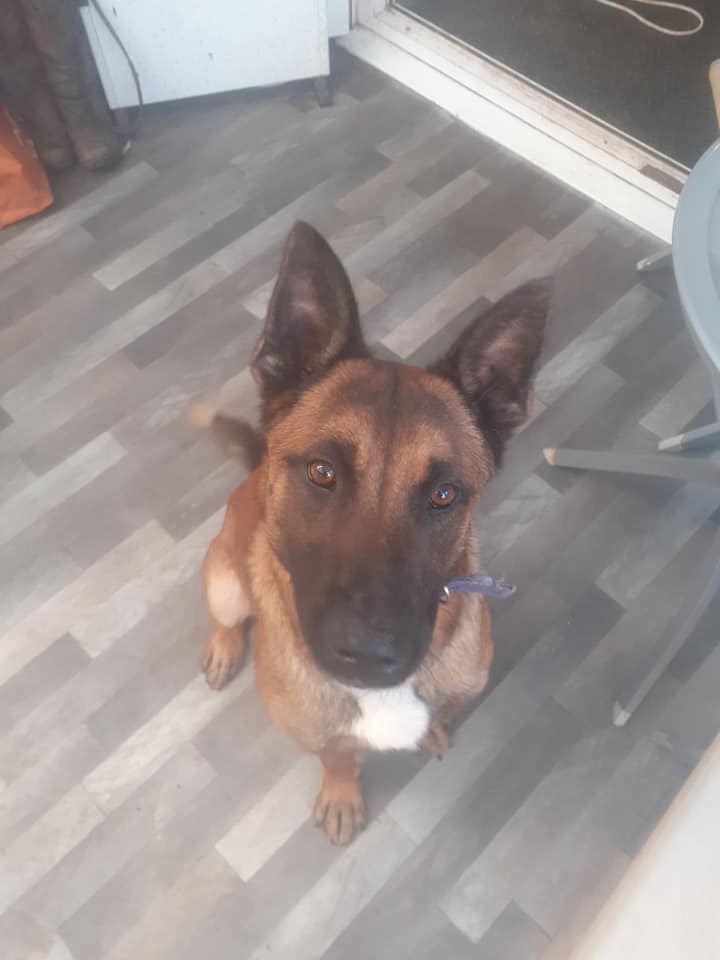 Buddy
Buddy is Looking for a very special person.
Two weeks today we liberated our 3 dogs Buddy Storm and Monty from the hell hole masquerading as a rescue Mars and Minerva malinois rehoming.
Buddy Monty and Storm were being fostered by the rescue owner Mary Howe who refused to hand my 3 dogs back to me when she opened her own rescue claiming she had adopted them.
There is no adoption contract for any of the dogs.
Despite our best efforts Mary Howe refused to return my dogs and until a few weeks ago I had no idea what had happened to them
Their story can be found on the FaceBook page.
Buddy was in a terrible condition, severely malnourished, nervous aggressive, shutdown dog aggressive/reactive, he's not house trained. He has had no environmental exposure, socialization or any type of training, he's literally spent nearly 18months locked in a kennel kept prisoner by the person who claimed to love him.
Slowly Buddy is adjusting to his freedom it took me 3 days to get his muzzle off ( he was fine I used a Baskerville ultra which allowed him to eat and drink)
Buddy is lovely now with me happy friendly bouncy but would bite anyone he didn't know.
Buddy came to us at 6months old with nervous aggressive unfortunately instead of someone working with Buddy to resolve his issues absolutely no work has been done with Buddy instead he was held captive in truly appalling conditions with little interaction with humans and his only interactions with other dogs is trying to fight them through the kennel bars.
I've pretty much left Buddy alone here he chooses when to engage with me when he does he's a very affectionate boy he knows his name and sits that's about it.
Buddy has gained quite a lot of weight in the last fortnight he still has a long way to go to full health but slowly physically he's getting there.
Mentally will be another matter, but dogs are resilient creatures and hopefully, in time Buddy ordeal and abuse will be a distant memory for him
Buddy would love to have a forever home and god knows he deserves it he's lost nearly 2 years of his life locked away from the outside world and kept in truly appalling conditions.
So tentatively we are starting to look for a foster experienced with the breed who would in time like to adopt Buddy
Buddy will need to be kept muzzled in all public places
As Buddy foster, we will need you to keep a detailed record of his progress back to full health attend vet check-ups etc and be willing to provide evidence in court if needed because we intend to take civil action for cruelty neglect and abuse under the animal welfare act against Buddy former foster
If you would like to know more about Buddy please contact me.
NO CHILDREN
NO OTHER DOGS
NO SMALL PETS OR CATS etc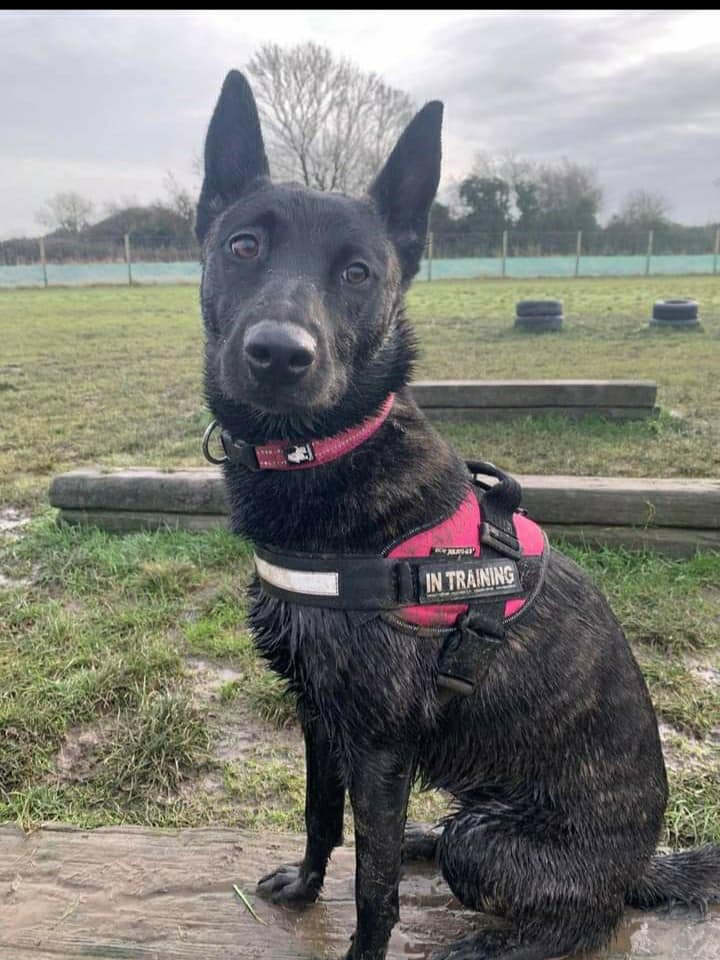 Frankie
Frankie has found his forever home.
Frankie is a 10month old dutch herder bitch
Frankie owner is beyond devastated that she has had to rehome her beautiful girl after a change in personal and work circumstances
We promise you we will take very good care of your girl and keep you updated
Frankie is NOT available for adoption just yet
VOSS.
Voss approx 8 months old mali male.
Voss came training with us too
Voss will require someone experienced with the Malinois breed.
Chewie.
Update: Chewie went to a local Police force:
Chewie 14 week old GSD x mali male
We are looking for an experienced working home only for this boy.